People often mistake custom-made jewelry for high-end luxury. Vees Star Diamonds and Jewelry is completely honest about the cost associated with custom.
Design Your Own
Custom Jewelry at an incredible and affordable price.
Of course, owning your own one-of-a-kind piece seems like a luxury. But with Vees Star Diamonds and Jewelry, you're actually buying your piece directly from the artists who created it. That means you'll pay about half of what you'd pay in a regular jewelry store.
And it also means that you can own your own custom piece for what other people pay for mass-produced jewelry. The price of your piece will depend upon the intricacy of the design, and the stones and precious metals you'd like used.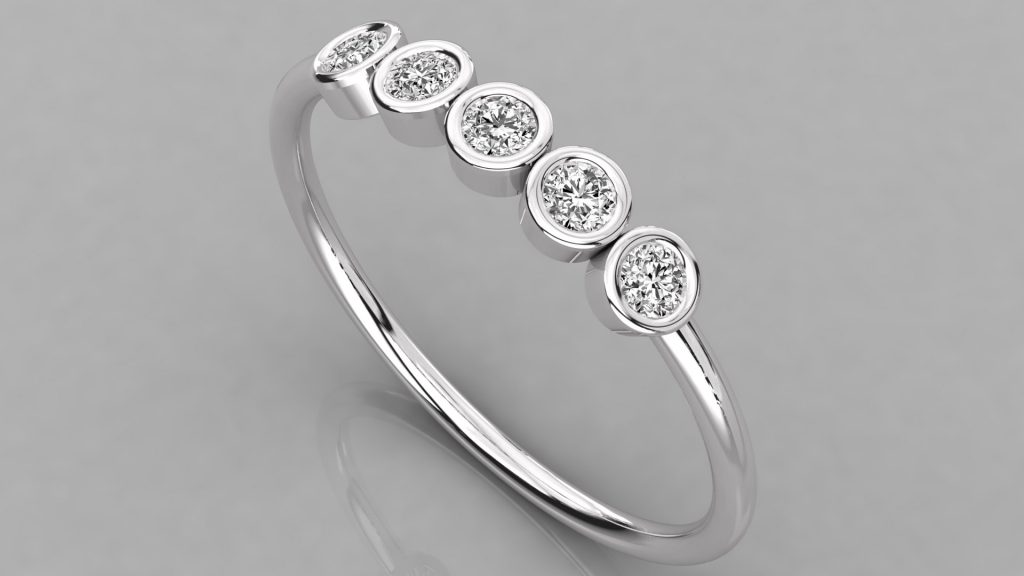 At Vees Star Diamonds and Jewelry, we have built our reputation on providing clients with beautiful products that have been crafted with excellent workmanship and unparalleled customer service. We strive to provide our customers with exquisite, one-of-a-kind items. If you are wondering about the custom jewelry cost, rest assured that you will be pleasantly surprised by how affordable it is to make a customized piece of jewelry with us.
Dominion Custom Jewelry Cost
Different factors come into play when determining the cost of a particular piece of custom made jewelry. Our staff carefully calculates this cost before presenting it to you for your approval. The things that we consider when drawing estimates are:
The metal used for the creation
Gemstones incorporated into the piece
The intricacy of the design
Workmanship necessary to create the finished product
Cost of Metal and Gemstones
One of the main factors associated with the cost is the materials. Just like any other commodity, the price of precious metals fluctuates and is based upon supply and demand. Naturally, the final price of a piece of custom jewelry reflects that difference.
Likewise, another component in establishing the custom jewelry cost is the type and quality of the stone or stones you have chosen. Diamonds are generally more scarce and rare than other precious and semi-precious stones and this will be indicated in the price. Once you have decided what kind of stone you wish you use in your jewelry, there is still a wide range of price points within that particular type of stone. Flawless, colorless diamonds are naturally more expensive than those with slight inclusions or color – differences that may not even be apparent to the naked eye but make a significant difference in the overall look of the finished product.
Some buyers have found that one way to reduce the cost of the finished product is by repurposing stones they already own. We have many buyers who come to us and start with their original diamond but choose to add new and side stones of either more diamonds or colored gemstones, making for a brand-new piece that incorporates a sentimental element of the past.
Many other people have a piece of jewelry they have been given or bequeathed from a family member that they wish to update or transform. They are pleasantly surprised to learn of the significant savings from using these stones as compared to purchasing new stones outright. Plus, there is the added bonus of sentimental value when using a stone that had belonged to a loved one.
Intricacy and Time
When working to create your finished product, we devote time to our craft. We want to ensure that the piece is flawless and completed to perfection. It naturally flows then that an elaborate piece that needs more time and attention than a simple one and should then cost more.
Ornate features, multiple stones, cutouts, and complex shapes tend to be more expensive simply because of the many steps that are involved when making these more detailed pieces. Highly embellished bracelets, necklaces, or rings are more intricate to design and make than more minimalist ones. When presented with a Vees Star custom piece, many loved ones are overwhelmed by the time and effort that has obviously gone into crafting a complex, ornate piece.
Buyers are happy to learn that their commissioned, one-of-a-kind pieces cost about the same as mass-produced jewelry while also being higher in quality. It is also important to note that you are purchasing directly from the jewelry designers—removing the middle man from the equation reduces the price greatly and makes previously out-of-reach couture jewelry affordable to everyone. Discerning buyers are quite satisfied with their Dominion Jewelers pieces as well as the cost of custom jewelry.
Complete Transparency in Cost
Vees Star is uniquely willing to provide complete transparency about cost throughout the entire process. From the first conversation that you have with a jeweler through the sketch process and into the CAD image phase, you know exactly what your piece is going to cost. This means there are no unpleasant surprises at the end. We strive to provide complete customer satisfaction and part of that means forthrightness with our clients from the moment you step into our store.
Moreover, Vees Star is here to work with you to ensure that you get the piece of your dreams while working within your budget – it is part of our challenge to give you the absolute best for what you can afford. Our designers can craft your vision while adhering to the monetary guidelines that you have provided. This enables you to walk away with the ring, the earrings, or the bracelet or necklace you have always dreamed of without straying past what you can afford. Customers who are determined to make custom jewelry can be presented with different options in terms of design and materials and work as a team with the designer to stay within their means.
Contact Vees Star Diamonds and Jewelry for an appointment. We can discuss ideas you may have for a specific piece and further provide you with details on the custom jewelry cost for a truly exquisite piece of jewelry.