Karaikudi – The Pride of Chettinad
The Chettinad houses in Karaikudi, Pallathur, and Athangudi are the most lavish and exquisite examples of architectural beauty
Our curated collection of exquisite Chettinad jewellery boasts of some stunning pieces! Visit Vees Star Studio today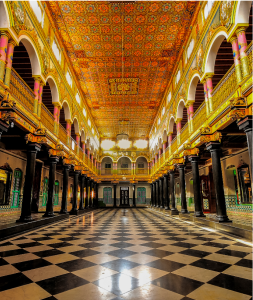 An outstanding example of the Chettinad architecture, the Chettinad Palace of Sivaganga dates back to the year 1912. It took about two years to complete this palace. It reflects the traditional style of architecture, which is characteristic of the region.
Most of the construction materials, decorative items, and furnishings used to construct Chettinad Palace were imported from East Asian countries and Europe. All the mansions have lovely teak, marble, or granite pillars supporting a spacious verandah. The hall leads to the central courtyard, used for weddings and religious ceremonies erstwhile.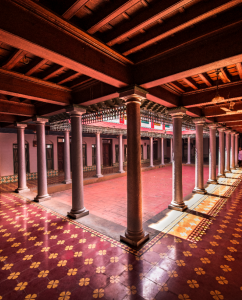 Do get in touch with us to explore our wedding jewelry collection. We will be obliged to acquaint you with our services.